Welcome to our web site.
Museum closures, at present the Museum will be closed 9th December due to the Wyllyotts centre being closed we will update the web site if things change.
Our website is regularly updated, with new material being added all the time,
Our November monthly meeting held on Monday 20th at the URC church in Darkes Lane was one of our best yet with many members of the Society and the farming community attending.
The speaker was Alistair White the 5th generation of his family to farm Warrengate Farm since the 1850s, he spoke on the farms history and the changes to farming in the Potters Bar area since the 1900s. He held everyone enthralled by the photos and his often witty but very informative talk.
The Society is most grateful for the efforts Alistair and his family went to in creating this special presentation and we look forward to our next series of local history starting in March 2024
Our next meeting in December is for PBDHS members only with our traditional Christmas Social and Quiz, with Mince pies and Sausage rolls!
The Museum is delighted to welcome groups by arrangement,
The Museum was delighted to welcome a group of 29 young children, teachers and helpers from Pope Paul School Baker Street, who walked all the way down and back,
The visit lasted some 45 minutes and the group were fascinated to play with novelty phones, see how the Merit toys were used by children in the past and the collection of old Photos of Potters Bar long before their parents knew it.
If your school or group would like to arrange a special visit please contact us by clicking here.
 educationofficer@pottersbarmuseum.org.uk

Click here  for What's New in December on our site, with Calendar page, Photo and Jigsaw of the month feature.
We have also added 2 articles about the Castle at South Mimms click here South Mimms Castle
Our next meeting is for members only as its our yearly social we restart again in March 2024
Into local history? and looking for  rewarding Volunteer work, the Museum currently has a vacancy for an assistant curator as well as Museum Stewards, why not enquire and see what we can offer

click here

  or visit the museum.
Did you know we can organise special visits for groups when the museum is closed, click here  to contact our education officer.
Revised index's for PBDHS Newsletters click here PB&DHS Newsletters
About us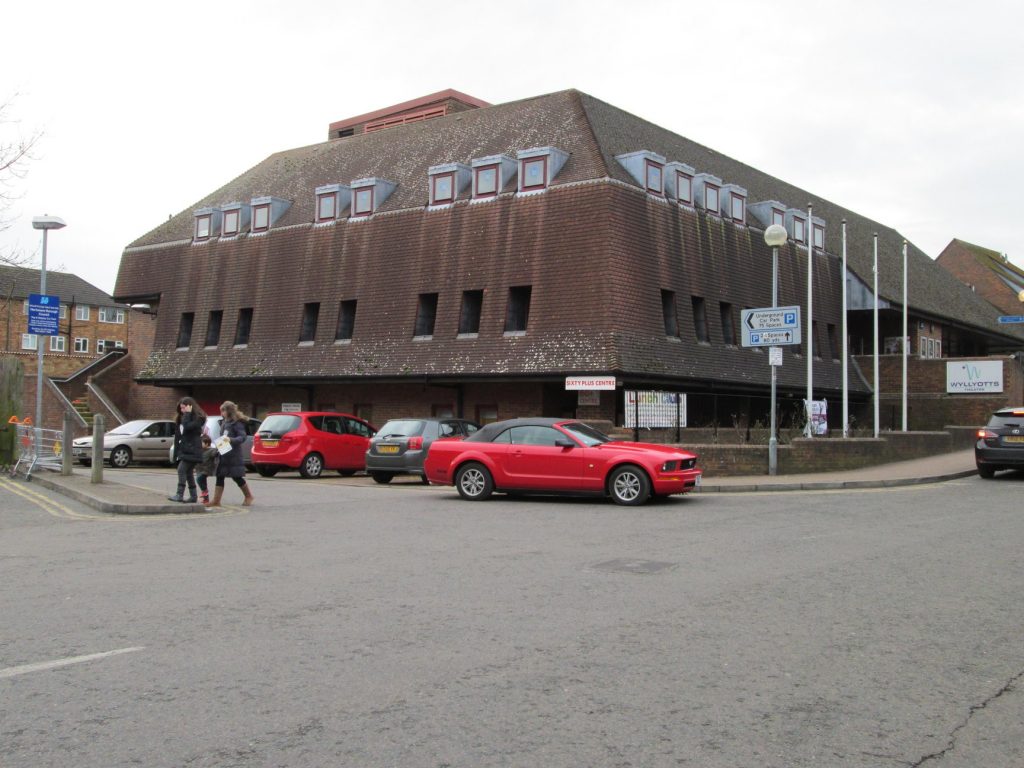 The Wyllyotts Centre just off Darkes Lane Potters Bar
Address
Wyllyotts Centre
Wyllyotts Place
Darkes Lane
Potters Bar
EN6 2HN
Opening Hours
Tuesday         2.30 pm – 4.30 pm
Wednesday   2.30 pm – 4.30 pm
Saturday       11.00 am – 1.00 pm Subject to Wyllylotts centre being open.
Admission Free
Parking Public pay-and-display car parks at Wyllyotts
Phone with message service 07856 513841
Email pottersbarmuseum@gmail.com
How to find us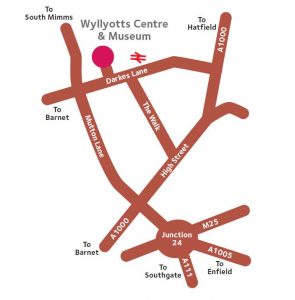 The Museum
Potters Bar Museum tells the story of the growth of Potters Bar from a tiny village on the Great North Road to the thriving present day town. The museum opened in 1990 and offers a delightful nostalgic jumble of items relating to Potters Bar and the local area. It is in one of the earliest known sites of interest in the area, facing the timber-framed Wyllyotts Manor, part of which dates back to the 14th century (now used as a restaurant and a public house).
We believe that the site has been occupied since the Iron Age – and certainly since Roman times.
What's on display?
The Museum includes pottery items and other artefacts which were found during the construction of the Wyllyotts Centre and allow visitors to relive some of the history of the place.
There are some natural history items, including fossils, geological specimens such as Hertfordshire puddingstone and Mesolithic stone implements used by the earliest known inhabitants.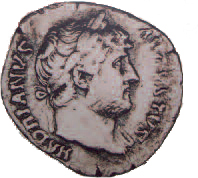 A collection of Roman silver coins found as a treasure hoard in the district is on display together with examples of Roman clay ware made in a kiln excavated in the Parkfield open space in the 1950s.
The Museum also contains many items from other sites in and around Potters Bar and from the motte-and-bailey castle at South Mimms – which for many years lay unrecognised or forgotten.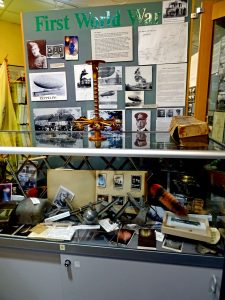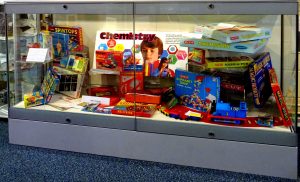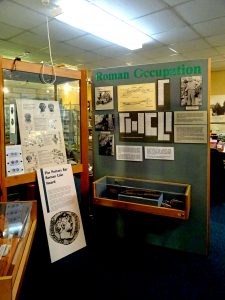 Permanent collections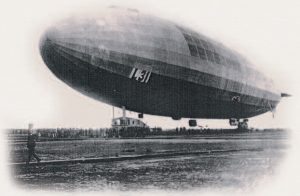 The largest display relates to the Zeppelin L31, shot down over Potters Bar in 1916, showing a number of relics from the destruction of this First World War terror weapon. For more, click here.
There is also a fascinating collection of novelty telephones ranging from 19th century to latest novelty types: some are in working order, and you are welcome you to touch!
Potters Bar & District Historical Society
The Museum stewards are all volunteers from the Potters Bar and District Historical Society, and which is a registered charity (no. 1200797). Hertsmere Borough Council provides the Museum accommodation and also grant-aids most of the running costs.
As well as running the Museum, the PB&DHS runs monthly evening meetings on a variety of historic topics every year from September through to May. They are held in the United Reform Church, Darkes Lane, Potters Bar, EN6 1BZ. Details and dates are listed on our Events page (click  here).
Volunteers
The museum is run entirely by volunteers and wouldn't be here if it wasn't for members of our community who give their time freely.
We always need more volunteers so if you able to give up a few hours a month/week or occasionally, we would love your help. There is a surprising variety of activities on offer, so whatever your skills or personality, there is something for everyone volunteering at one of our museums.
Our volunteer team is a friendly and welcoming bunch. Whether you are looking to make new friends, or to add a new skill to your CV, there are many different ways to get involved:
Front of house welcoming visitors to the museum and helping them get the most of their visit
Cataloguing objects to helping with displays
Researching our past by delving into our archives to find the hidden stories
Creating and updating our online content
Helping to research, design and curate temporary exhibitions
Helping to keep the museum safe and looking at its best
Facilitating school visits and helping families get the most out of the museum and our events.
Our marvellous volunteers bring our local history to life. We are so proud of what they have achieved.
If you'd like to volunteer, please come and see us at the Museum or click here to contact us.
Featured collections
In addition, the Museum has an Exhibition mounted twice a year – find out more on the Events page (click here), and also on our Facebook page here!
Our stewards are on hand to help with any history enquiry as well as welcoming your stories and reminiscences and provide assistance in identifying objects.
Group Tours and Lectures
Tours to explain the collections and exhibition can be arranged for schools and groups by arrangement with our education officer Click here